| | | |
| --- | --- | --- |
| | December 2002 | |

(Click on pictures to enlarge. Then use your browser's

back button to return to page)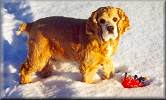 The first real snow of the season and Gabby can't wait to go play outside. It happened to be about 6°F outside so we didn't stay out long. Snow began to stick to Gabby's paws and turn into ice. He would stop and lick his paws trying to get the ice off not realizing he was just making thing worse. But you can't break tradition and Gabby has to be out in the snow.
Here's Gabby's latest movie. Romping in the snow and enjoying himself at the park.
| | |
| --- | --- |
| RealPlayer | [ play ] streaming video (56 K connection) |
| Media Player | [ play ] 404 KB (56 K connection) |
Won't Play? Download the latest version of Windows Media Player or RealPlayer (look for the free version).
Streaming video plays instantly!

Here's a few pictures of Gabby before the heavy snow fell. Plus here's a picture of Gabby with Santa taken 12/14/02 at Petsmart.
Want to see more?
| | |
| --- | --- |
| Gabby's Page | Gabby's home page with his story. |
| Gabby's Photo Archive | All of Gabby's past web pages and pictures are here to see including his puppy pictures. |
| Gabby Cards | Cute cocker spaniel postcards for any occasion by e-mail. Choose the advanced version to send cards with music and your choice of background colors. |
Sign Gabby's guestbook.
[ home ] [ my cocker spaniel ] [ cocker home finder ] [ pc & web for beginners ] [ nursing ] [ site map ] [ links ] [ guestbook ] [ e-mail me ] [ cocker spaniel ring ]