| | | |
| --- | --- | --- |
| | Cocker Spaniel Home Finder | |
Cocker spaniels in your local animal shelters are in desperate need of your help. Some shelters will only keep animals for 72 hours. If no one claims these dogs they are destroyed.
You can make a difference by adopting these homeless pets. Cocker spaniels make wonderful companions. Please read the before you adopt section first. The easiest place to start your search is your phone book. Animal shelters are called by a variety of names, so look in the yellow pages under such listings as "animal shelter," "humane society," or "animal control." Animal care and control agencies are often listed under the city or county health department or police department. You can also start right here! Use Google's powerful search engine to find animal shelters in your area (USA & Canada):
Enter your state/province or city*
(results vary with city)
*Rhode Island residents search here.
Petfinder Cocker Spaniel Search
Petfinder is excellent for searching for specific breeds like cocker spaniels. Just enter the location you want to search in. Don't be shocked if you get a page or more of cocker spaniels needing homes in your state.
Enter state/province or zip code
Examples:
5 digit ZIP code e.g. "08876"
Postal code (with space) e.g. "k8p 3h2"
Town, State/Province combination (2 letter abbr) e.g. "Somerville, NJ" or "Vancouver, BC"
Another place to look is at your local cocker spaniel rescue. Cocker spaniel rescues are usually non-profit organizations whose purpose is to provide temporary shelter to homeless cocker spaniels. Use Google's powerful search engine to find cocker rescues in your area:
Enter your state/province or city
(results vary with city)
---
Petfinders and Pets 911
Both Petfinder and Pets 911 let you search for cocker spaniels in your area. Animal shelters and rescue groups have paired up with these web sites to create a database of adoptable pets.
Before You Adopt: What You Should Know About Cocker Spaniels
Cocker spaniels have long hair that requires regular cutting and grooming. Additionally, Cocker spaniels are prone to certain health problems, namely eye problems and joint problems. They are particularly prone to allergies and may require special diets. Some of these problems may mean more visits to the vet and administering medications on a regular basis. There is obviously a time and money commitment here. This doesn't mean that every cocker spaniel will have health problems but you should certainly be prepared for it.
Pet Owners Quiz

Many animals end up at the animal shelter because their previous owners did not have the basic skills for taking care of pets. If you are interested in adopting a cocker spaniel, I urge you to take my pet owners quiz. Many of the questions test your knowledge of a dog's basic needs. Other questions are designed to test your knowledge of animal aggression, especially with children. Careful consideration must be made in placing each cocker spaniel in a prospective home.
Quiz Help
Simply answer the questions by selecting true or false then click continue to go the the next question. You cannot go back and change your answer. When you are finished, your quiz results will appear. If you would like to print your quiz results press [Ctrl] and [p] at the same time. If you want to take the quiz over again you will have to clear your web browser's cache otherwise your test results from previous will be displayed.
Cocker Spaniel Adoption Center
Provides pictures and descriptions of cocker spaniels in need of homes. Learn about available dogs and find contacts (Maryland area).
http://www.cockeradoptions.org/
Cocker Rescue of Austin/San Antonio
A non-profit group dedicated to finding "forever homes" for cocker spaniels that have been rescued from shelters, abandonded by previous owners or found wandering the streets
http://www.austincockerrescue.org/
Cocker Spaniel Rescue of BC
Find information on adoption and foster care of cocker spaniels in the British Columbia and Washington state area.
http://www.csrbc.org/
Cocker Spaniel Rescue of East Texas - Houston
Cocker Spaniel Rescue (CSR) is dedicated to rehabilitating and placing "cockerkids" in caring homes. Provides information on adoption, foster care, and local events.
http://www.cockerkids.org/
Cocker Spaniel Rescue of East Texas, DFW
Richardson area foster care group rescues homeless cocker spaniels. Site includes pictures of adoptable dogs with adoption information.
http://www.dfwcockerrescue.8m.com/
Cocker Spaniel Rescue of New England
Organization of volunteers is dedicated to the rescue and placement of homeless and stray cockers. Find news and learn about available dogs.
http://www.csrne.org/
Florida Cocker Spaniel Rescue
Find ten reasons to adopt a rescue or answers to frequently asked questions, view pictures of available dogs, or fill out the adoption application.
http://www.floridacocker.com/
Shorewood Cocker Rescue
Western Wisconsin foster care group helps homeless cocker spaniels find suitable homes. View dogs for adoption, or complete an application to foster or adopt.
http://www.cockerrescue.net/
Wisconsin Cocker Rescue
Provides foster care until caring new homes are found. Note: Many pictures of adoptable dogs are missing. Let's hope this is temporary.
http://www.geocities.com/WiCockerRescue/
Abandoned Angels Inc.
Re-homing and rescuing cockers in the New York area and members of the Mayor's Alliance for NYC's Animals.
http://www.nyabandonedangels.com/
AZ Cocker Rescue
Located in Arizona, AZCR is a 501c, all volunteer organization with no paid employees. All funds go directly to the dogs!
http://azcockerrescue.com/
Life's Little Paws
Transporting cockers from Ohio to Main, dedicated to saving the lives and to the re-homing of cocker spaniels with a special emphasis on the 'sight challenged' cockers.
http://www.lifeslittlepaws.com/
Manuelsweb.com does not endorse the list of rescues. They are placed here merely as a means of finding cocker spaniels in need of caring homes. You will find directories such as The Open Directory Project mention many more rescues. Those mentioned here have updated websites. Sites will be periodically visited to ensure they are current and maintained. Rescues mentioned here will hopefully yield the best results.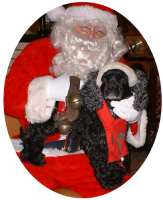 Lucy was one of the "worst case" cockers we have had. she was considered unadoptable due to her horrendous skin condition. I went to see her at the shelter and I could see a diamond in the rough so to speak. she was so feisty. But oh her skin was bad. She had infected sores on her head and scabs all over her body. I wish I had had a camera at the time to take a before picture

She is QUEEN of the house now. Can't you see the feistiness in her eyes...LOL
The last time I saw her, a couple of weeks ago, she hadn't seen me for quite some time. She never runs up to strangers wiggling her tail...she barks first. Well...she saw me and RAN across the lawn to greet me...happy as can be. It's moments like these that REALLY warm my heart. I saw her at her worst and I now see her at her best.
I love these little dogs.
Carol
---
Rosie was adopted from the Morris Animal Refuge in Philadelphia four years ago (it is no longer a no-kill shelter). She was tossed back and forth by a single girl who didn't know if she wanted her or not. She was first abandoned by a couple getting a divorce and no one wanted her. Can you imagine? Rosie came to us with a lot of mental baggage. She didn't know how to love or trust. It wasn't her fault. She couldn't depend on anyone. We didn't understand all her problems, but it didn't take long before she DID trust us. She had a few issues with learning she didn't have to steal and hide toys and articles of our clothing and belongings. She was jealous of Brownie and snapped at her the first night. Brownie was an only pup for a long time, so she wasn't into Rosie much either. Within months, they became good sisters. Rosie loves Brownie, but Brownie doesn't get her! She tolerates her like a younger sister bugging an older sister! They are so cute together. They do miss each other when the other is at the vet.

I wouldn't know what to do without our 2 Spaniel Girls. It's like they've always been here together. We love them a lot.
Katie
---
My son and I adopted Bailey (approx. 3 year old buff boy) from a shelter 9 months ago. He had been brought in as a stray with a collar but no tags. No one claimed him and he had been in the shelter for a couple of months when I found him on petfinder.com. I went to meet him and he was a stinky, matted mess - smelled like a sewer, eyes were a mess, twigs and leaves stuck in his fur. No wonder no one had taken him yet. I took him for a walk and he was a menace on the leash. He was just so happy to be outside in the fresh air and out of his cage. Once he calmed down I sat down with him on the grass and he just leaned into me and closed his eyes. And I fell in love. That was it - he was mine. I brought my son back to meet him and we took him home. We got him groomed (and neutered - the shelter did not provide that service) and he is just absolutely beautiful. He has shown us so much love and devotion and we have gotten back 1,000 percent more than we have given. It was not all perfect - we had some obstacles that we worked out with patience and a good trainer. But it was worth it and I feel honored to give him a forever home where he will be safe and loved for the rest of his life.
Lele
---
Hi my name is McBrides Hondo, but what you don't know is that I was the first Hondo and I was rescued from people that had me tied to a clothesline and the weeds were so high around me that no one could even see me out there. I had sticker burrs embedded in my chest and stomach, and my ears were filled with mites and skin infested with fleas. I was so afraid from being left out in the sun and rain. Well a friend told Mrs. A. (HondosMom) about me and ask if she could help me out. She said...yes, and my new life began. Mrs. A took me inside her home and gave me a bath, cleaned my ears and shaved my chest and stomach. She then rubbed Calamine lotion on me several times a day until my skin until I was all better. I also was afraid and would not drink water, but Mrs. A. dipped her fingers in water and let me lick it off (eventually moving me closer to the water bowl ). Well Mrs. A. loved me so much but had to go back to work again and she was never at home, so not wanting me to be left alone again, she found me a great home with a family that already had a female cocker that looked just like me. I really love my new family. Well Mrs. A finally got to retire from work and she missed me so much that Mr. A got her a new baby boy (Hondo). I think that you people know him here at Cocker Corner. His real name is Abe's Pride Macho "Hondo" and he belongs to HondosMom !! This is how Mrs. A found out how great cockers are and had to have another boy just like me. That's what happens if you ever have a chance to help one cocker you'll always love them . See we look so much alike and have almost the same name.
---

I rescued Scamper 6 years ago from a kill shelter. His owner decided he did not want him anymore! He said he had him in the basement from 7:00 AM till 7:00PM every night! He said he had no time for him anymore. No wonder Scamper was scared to go down to the basement when we first got him! We felt he had been abused in someway! A lot of love and attention was needed for this poor boy as he had never had any. We worked hard with Scamper and he started to trust us and love us back. He did not know how to give kisses but now he does and we love him dearly. I will always have a cocker in my life. I love this breed. Scamper is my first dog.
Justine
---
We adopted Cookie, a blonde cocker of about 6 years old from a local humane center. She looked so sad in her little crate and her eyes were so red...I knew she was the one for us. All we knew was that her previous owner(s) had moved and did not want to take her with them. After we took her to the vet, we placed her on a food allergy diet which completely healed her red eyes. At first we didn't know if she was house trained but she quickly let us know that she was. She is the sweetest girl ever and she loves us so much. She was the first pet for both my husband and I. Recently, we adopted a three year old male cocker by the name of Rocky. We wanted Cookie to have someone to play with while we were at work. At first, Cookie would snap and growl at Rocky. Rocky, being younger would just lay on his back and let her know she was the boss. He would "go" on our carpet and chew on everything! We were about to give up on Rocky when we realized that someone else did the same with Cookie. Once we realized the Rocky was probably passed on to different foster homes during his short life, we began to understand that Rocky was probably really scared. After a lot of love from us...and Cookie's realization that Rocky is not going anywhere...they are the best of friends. He now uses the doggie door like Cookie and has his own bone to chew on. We love seeing them play! Rocky is the sweetest boy we could all have ever asked for! I can only hope that more people adopt cockers like we did because the rewards are tremendous.

Barelas
---
I rescued my beautiful cocker from the Humane Society Five years ago- I thought he was brown, he was so filthy and matted, his ears were oozing and black. We went straight to the groomers and the vets and he is a beautiful buff color with clean ears now! He suffers from recurrent infections, and is also completely blind in one eye, with a cataract developing in the other. He had been abused, abandoned, and beaten in his years prior to adoption. He is the sweetest, most loving dog with amazing loyalty and attachment to myself and our family. It breaks my heart to think of anyone hurting him, but he is so happy now and we love him like crazy!!
Mercucio
---
I just wanted everyone to know what a joy our cocker spaniel has been to us. We adopted our female cocker spaniel from a local animal shelter. We had fallen in love with her at first sight. We took her out to play with my husband, myself and our kids. She was playful and only wanted LOVE. Only after playing with her and falling in love did they tell us someone had already put in to adopt her. That we could leave our name and number. That we would be called as 2nd choice if they fell through. But the first family was almost 100% on adopting her. Well- the other family chose not to adopt her. The shelter called at 3:30 pm and told us to pick her up before 12noon the next day or she would be put down. So all of us piled in and went to get her. Midnight seemed to KNOW we were there to get her out and bring her home. Alive. We have had her just more than 2 months now and we can not figure out why anyone would let this baby go. She is GREAT with our kids (5 months and 3 years) and loves to cuddle with anyone. She is very healthy and happy. She will let us know if someone is at the door. But has adjusted as if she has been here her whole life. My vet checked her out and she is healthy. Said she was one of the sweetest cockers he has seen. She has since made herself at home and loves sleeping one our feet at night. She also checks on the kids before she goes to bed at night. She has found her forever home and a special place in our hearts.
Elizabeth
---
Hello, I just wanted to share my story about Sam and how he became part of my family. Sam was found by another family that already had three dogs and couldn't keep a fourth. He was given to a friend of their family for adoption but it didn't work out. I didn't know these people from Adam until I went to pick up my son from a friend's house one evening. Sam was wandering around just looking so cute and when I opened my car door he jumped in like he belonged. Lucky for Sam he had a phone number on his tags and I called and left a message. As I was driving home I heard someone calling out so I turned around and drove towards the voice. I stopped and asked a man if he was looking for a dog . He said yes, so I turned on my inside light and said " does he look like this?" Later that night, Richard called me and said he couldn't keep Sam and asked if I would like to adopt him. Needless to say, I couldn't turn him down! Sam is the BEST thing to come into our lives in a very long time. He is a beautiful blonde Cocker Spaniel. He is house broken, sleeps with me every night and after having him for 3 weeks now he is very protective of me. He is such a sweet boy. I'm so glad he jumped into my car. Some how he knew he'd end up coming home with me even before I knew! Our family is very blessed with our new member!
Thank you for letting me share my story.
Lisa Lockwood
California
---
If you have a happy ending you would like to share please .
Your more than welcome to create a text link to this site:
http://www.manuelsweb.com/rescue.htm
or copy the button below
References

http://www.maddiesfund.org/help/charities.htm

"Many shelters are doing better. In a recent survey of eighty of the country's most widely recognized and best funded traditional animal shelters, the average death rate was 55%, with 29% adopted, 7% returned to caregiver (redeemed), 4% killed at owner request and 5% dead on arrival. (At animal control or municipal shelters, the death numbers are generally higher than they are at humane societies or societies for the prevention of cruelty to animals. Average death numbers at animal control often range in the 60-75% range)."

http://www.licksandwags.com/stuff.htm

"On average, most pounds may only keep lost or stray dogs for seventy-two hours and then if our families do not bother to come to claim us we are destroyed, a few may be placed in shelters, or cruelly, some city pounds will actually sell us to laboratories to be used in animal experimentation."

http://www.hsus.org/

"The easiest place to start is your phone book. Animal shelters are called by a variety of names, so look in the yellow pages under such listings as "animal shelter," "humane society," or "animal control." Public animal care and control agencies often are listed under the city or county health department or police department."

http://www.dogbreedinfo.com/americancocker.htm

Some major concerns are cataracts, glaucoma and patellar luxation. Some minor concerns are hip dysplasia, ectropion, entropion, PRA, allergies, seborrhea, lip fold pyoderma, otitis externa, liver disease, urolithiasis, prolapse of nictitans gland, CHF, phosphofructokinase deficiency, and cardiomyopathy. Occasionally seen are gastric torsion and elbow dysplasia.

Quiz references:

http://www.ddfl.org/behavior/children.htm

, http://www.ddfl.org/behavior/dogbites.htm, http://www.hsus.org/

Rescue directory:

http://dmoz.org/

, http://zeal.com

Thanks to members of MSN's Cocker Corner for permission in using their photos and stories. Also, a thank you to visitors who have submitted their stories.

Please visit MyCockerSpaniel.com Homeless cockers from Petfinder are also featured on the home page.

Updated 8/1/2007

[ home ] [ my cocker spaniel ] [ pc & web for beginners ] [ nursing ] [ site map ] [ links ] [ guestbook ] [ e-mail me ] [ cocker spaniel ring ]