| | | |
| --- | --- | --- |
| | mackinaw & mackinac island | |

(Click on pictures to enlarge. Use browser back button to return to page)

Here are some pictures of our trip to Mackinaw, Michigan. I was surprised to see how clean the lake water is. I'm used to the murky waters of lake Erie because I grew up in that area. This was the first decent trip we've had in a while. Our previous trips have been marred by poor accommodations and bad weather. Of course I insisted that Gabby came with us. Gabby enjoyed himself in the mild weather and basked in the attention he received from tourists during our stay ("...oh what a cute dog!")

We went on a nature tour through the State park with an informative guide, a retired State park worker. He showed us a few rare flowers. Later on Mackinac Island we saw some tourists digging up some trilliums which in Michigan carries a State fine for each plant picked.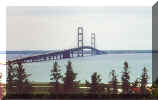 Here's the Mackinaw bridge which my wife keeps mentioning to me. It is the world's 9th longest suspension bridge connecting the upper and lower peninsulas of Michigan 5 miles apart.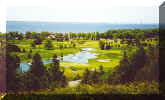 (Click on pictures to enlarge. Use browser back button to return to page)


The very first thing you will notice when you arrive to the island is the smell: It smells like a zoo! Only horses and bicycles are permitted for public transportation (no cars). Gabby got his first horse-drawn carriage ride. Gabby took the ride okay except on the bumpy dirt roads. If I only could have taken a picture when Gabby and a horse were sniffing each others noses! The island boasts of having the largest stables in the world.

Here is a picture of the Grand Hotel. From the picture you might think it's small but this hotel is gigantic. The movie, Somewhere in Time with Christopher Reeves and Jane Seymour was filmed here. If your interested rates start at $190 per person a night. Of course formal attire is required after 6:00pm. Ooh yeah! I'm there! (sarcasm)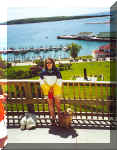 Here's a picture of Cathy and Gabby in a view overlooking the harbor.

We visited the Butterfly House while on the island. Hundreds of exotic butterflies are on display in a greenhouse-type show room. Butterflies are roaming everywhere and do land on you.
Finally here are some pictures of Fort Mackinac that Cathy took. Some soldiers were firing weapons from the 1800's.


[ home ] [ my cocker spaniel ] [ the lance missile ] [ pc & web for beginners ] [ nursing ] [ site map ] [ links ] [ guestbook ] [ e-mail me ]