| | | |
| --- | --- | --- |
| | february 2001 | |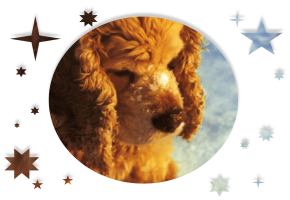 (Click on pictures to enlarge. Then use your browser's

back button to return to page)
Here are some pictures I took of Gabby playing in the snow. As always, Gabby is anxious to play outside after the first snow fall. His nose was covered with snow.
Gabby loves the snow except when it sticks to his fur. By the time we get home large snow balls have formed around his front and hind legs.
Want to see more?
| | |
| --- | --- |
| Gabby's Page | Gabby's home page with his story and puppy pictures |
| Gabby's Photo Archive | All of Gabby's past web pages and pictures are here to see. |
| Gabby Cards | Cute cocker spaniel postcards for any occasion by e-mail. Choose the advanced version to send cards with music and your choice of background colors. |
Meet more cocker spaniels
Sign Gabby's guestbook.
[ home ] [ gabby'spage ] [ gabby's new pictures ] [ cockerspaniel ring ] [ pick another month ]