| | | |
| --- | --- | --- |
| | december 2001 | |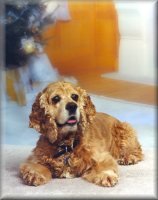 (Click on pictures to enlarge. Then use your browser's

back button to return to page)
These are Gabby's Christmas pictures. I think the photographer did a great job considering Gabby couldn't keep still. Gabby was more interested in exploring her studio. Of course Gabby got plenty of compliments on his cuteness at the studio. I liked the top picture so much that it was made into a Christmas card which I sent out to everyone.
Want to see more?
Gabby's Page -- Gabby's home page with his story and puppy pictures
Gabby's Photo Archive -- All of Gabby's past web pages and pictures are here to see.
Gabby Cards -- Send a cute cocker spaniel postcard for any occasion by e-mail.
Sign Gabby's guestbook.
[ home ] [ gabby'spage ] [ gabby's new pictures ] [ cockerspaniel ring ] [ pick another month ]