| | | |
| --- | --- | --- |
| | august 2001 | |

(Click on pictures to enlarge. Then use your browser's

back button to return to page)

Gabby has been busy playing in the lawn sprinklers this summer. For his birthday I bought him his own lawn sprinkler to play with. It only took one day to break it. He plays with our in-ground sprinklers too. I end up replacing the ones he breaks. I think of Gabby as a sprinkler gremlin. If your lawn sprinklers are broken or spraying in the wrong direction, you probably have a gremlin of your own!

Along with chasing squirrels and bunnies, Gabby has been after possums and mice. Last month Gabby woke up our neighbors barking at a possum in our front yard. I had to spray Gabby with a garden hose to get him away from the possum. We also have mice in our garage and Gabby keeps himself busy chasing them down.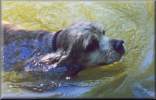 Here's a picture of Gabby swimming. I dared him to go into the water and get a huge dead carp. So he did (bad idea)! As soon as he brought it on shore he began to roll on it...we rode home 30 miles with the windows down.

Be sure to sign the new guest book.


[ home ] [ gabby'spage ] [ gabby's new pictures ] [ cockerspaniel ring ] [ pick another month ]