Kana Flash Cards
Instructions
Select flashcards containing Hiragana, Katakana, or both. A window will pop up. Kana will be randomly displayed. Mouse over symbols to display its English equivalent as pictured below. Click the "NEXT" button to display another random symbol.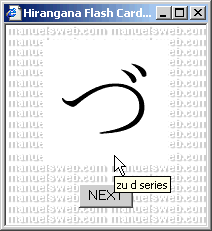 Reference
Display of all Hiragana symbols
Display of all Katakana symbols
To display Japanese text on Windows XP open the "Control Panel" and select "Regional and Language Options." Select the "Languages" tab and check "Install files for East Asian languages" then click "Okay." You may need your Windows XP installation CD. If properly installed this page will display Japanese text.
Links
Microsoft Global Input Method Editors: allows you to enter Japanese text on a PC.
---
Flashcards written by Manuel Villanueva 9/12/2005. Updated 3/12/2006 for Netscape and Firefox compatibility.